Did you work on the air in Louisville before 1990? | Louisville and Lexington DJ Page
Louisville Radio Trivia: In 1930 there were five radio stations in the entire state of Kentucky: WHAS in Louisville, WLAP in Lexington, WFIW in Hopkinsville, WCKY in Covington and WPAD in Paducah. By 1945, Louisville had four stations of its own: WHAS, WAVE, WGRC (which became WAKY in 1958) and WINN.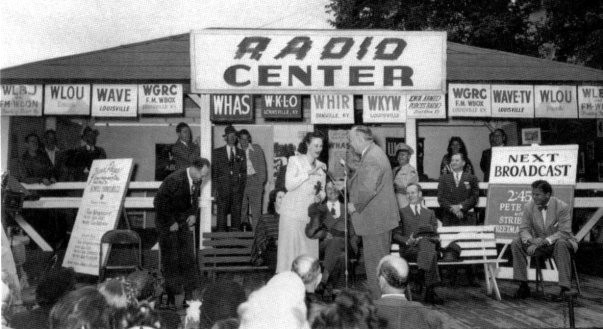 Radio Center at the 1949 Kentucky State Fair at the Kentucky State Fairgrounds, 1400 Cecil Avenue
On stage, at the microphone, is then Governor Earle Clements (right) and Esther Neal, 3rd place winner in the 1949 National Fiddle Contest.

Along the top we see various stations that originated broadcasts from this stage during the state fair's run. WLBJ (Bowling Green), WLOU, WAVE, WGRC, WHAS, WKLO, WKYW (all out of Louisville), WHIR (Danville), and the Armed Forces Radio Service (Ft. Knox). We also see two FM stations listed (Louisville's WBOX and Bowling Green's WBON) and a brand new television station, WAVE-TV Channel 5.

Roster of AM and FM Radio stations serving metropolitan Louisville
in 1967 (each group reading left to right on your dial):
AM Stations

WTMT Jefferson Broadcasting Co., 620 kc, 500 watts
WAKY Lin Broadcasting Co., 790 kc, 5,000 watts
WHAS WHAS, Inc., 840 kc, 50,000 watts, clear channel
WFIA Radio 900, Inc., 900 kc, 1,000 watts
WAVE WAVE, Inc., 970 kc, 5,000 watts
WKLO Air Trails, 1080 kc, 5,000 watts
WINN Kentucky Central Broadcasting Inc., 1240 kc, 1,000 watts
WREY M.R. Lankford Broadcasting, Inc., 1290 kc, 1,000 watts
WLOU Rounsaville of Louisville, Inc., 1350 kc, 5,000 watts
WXVW Electrocast, Inc., 1450 kc, 1,000 watts
WSAC Fort Knox Broadcasting Corp., 1470 kc, 1,000 watts
WHEL Shell Broadcasting Inc., 1570 kc., 1,000 watts
FM Stations (Commercial)

WHAS-FM WHAS, Inc., 97.5 mc, 100,000 watts
WKLO-FM Air Trails, 99.7 mc, 9,340 watts
WLRS-FM Kentucky Technical Institute, 102.3 mc, 3,000 watts
WSTM-FM J.W. Dunavent, 103.1 mc, 3,000 watts
WSAC-FM Fort Knox Broadcasting, 105.5 mc, 6,000 watts
WKRX-FM WKRX, Inc., 106.9 mc, 50,000 watts
FM Stations (Non-Commercial)

WNAS-FM New Albany-Floyd County School Corp., 88.1 mc, 800 watts
WFPL-FM Louisville Free Public Library, 89.3 mc, 160 watts
WFPK-FM Louisville Free Public Library, 91.9 mc, 20,000 watts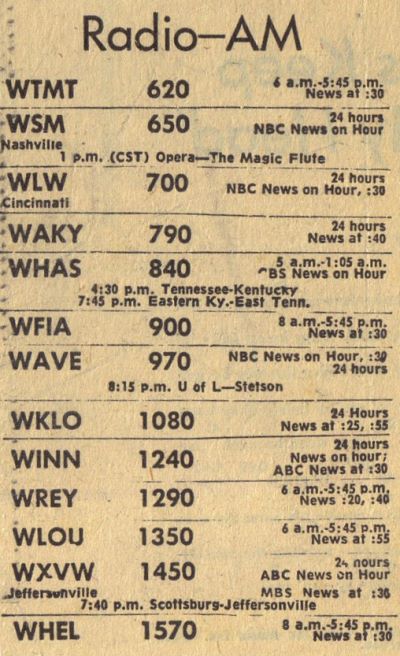 The Louisville AM dial in November 1969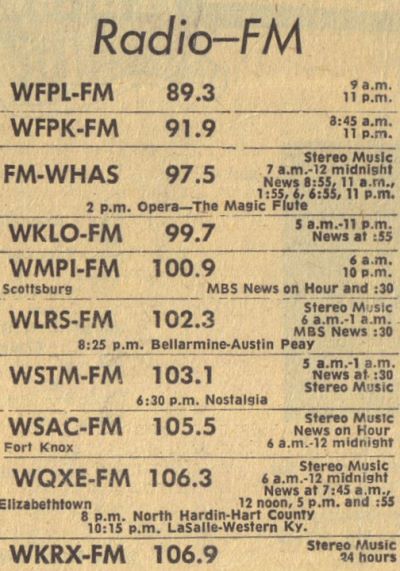 The Louisville FM dial in November 1969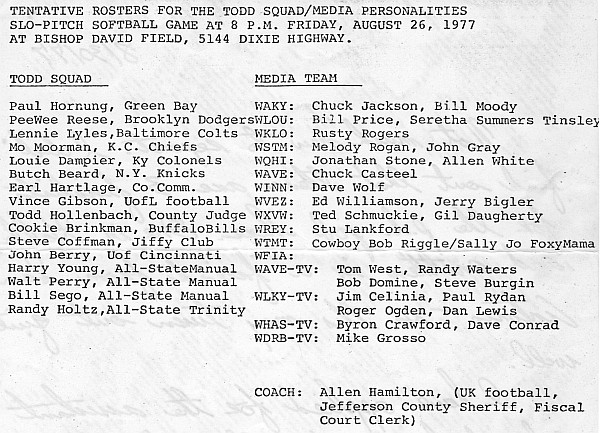 Roster for 1977 softball game featuring several Louisville radio and TV personalties