WAV(E)ing Farewell
The Courier-Journal, Thursday, July 29, 1989

Switch to satellite service marks end of station as a local radio power

By David Inman
Staff Writer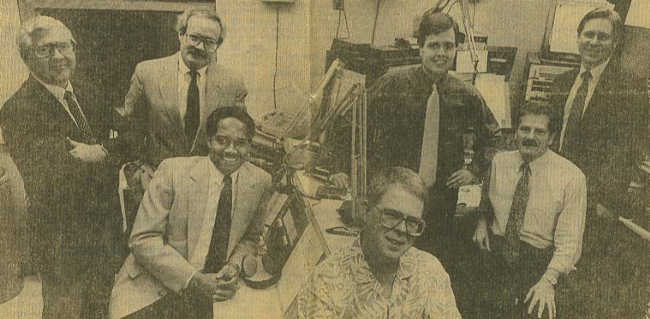 Among those soon to leave WAVG are Lou Harpenau, left, Danny King, Charles Gazaway,
production manager Don Pay, John Asher, Chuck Casteel and Allen Brown

Danny King remembers back in the 1970s when the Federal Communications Commission allowed 18 minutes of commercials per hour on a radio show.

Back then, said King, he didn't have any trouble filling every second of that time his WAVE radio shift.

"Now I come in some mornings," he said, "And I don't have 18 commercials for the whole four-hour show."

When Lou Harpenau came to work as a newsman for WAVE radio in late 1968, the news staff included such local legends as Livingston Gilbert, Ed Kallay and Bob Kay.

Now the news staff consists of just two men - Harpenau and John Asher. And the station has stopped running local news in the afternoons and evenings.

Come mid-August, even that will end.

As will the presence of WAVG, as it's known now, as a local radio power.

The station isn't going off the air. It'll still be at 970 on the AM dial, playing the same format of oldies music - songs recorded between 1957 and 1965 - that it began last year.

But the music will all be coming from California via satellite. There will be no news or local weather.

And the on-air staff at WAVG - many of them Louisville natives, many of whom have been at the station for more than a decade - will be looking for work.

Three were laid off last December: personalities George Lindsey and Jerry Tucker and news reporter Rick Jones.

And six others - personalities Allen Brown, Chuck Casteel, Charles Gazaway, King and newsmen Harpenau and Asher - will be gone when WAVG switches to satellite-music service on August 15.

"It's a long waiting period," said Brown, who is also WAVG's program director. "It's like the patient has died, but the family still hasn't left the hospital."

"There's a feeling of sadness here, no doubt about that," adds King, 42. "But we don't want the listener to suffer."

"It's a little harder to roll out of bed in the morning," said Asher, 33, who's been at the station six years and is now news and sports director. "It's a little harder to get motivated. But we've consciously made an effort not to let things slack. We know we've done our best and we want to go out doing our best. I hate it, though, because of what this station means. There's a sadness that I didn't expect."

"I think the people who'll really be affected are the people of Louisville," King said. "Whenever there's been bad weather, I've only felt safe listening to WHAS and WAVG. That's where I felt I could keep tuned in to what was going on locally. That'll change now."

"It is like a death," said Casteel, who's worked at WAVG since 1972. "But it's been dying for years now. In my heart of hearts, I hoped otherwise, but you could see it coming."

The changes began in earnest late last year.

Previously, WAVG and its sister station, WLRS-FM, had been locally owned by the Henson family. But in October they were sold for $5 million to Radio One, a company ran by Alabama entrepreneur Toney Brooks.

Lindsey, 33, who'd been at WAVG for two years, was one of the first to be let go.

He said he first got an inking of what was in store when he was making live remote calls to the station from a cruise to the Bahamas that WAVG sponsored. "And at about the middle of the week," he said, "they stopped accepting my phone calls."

After losing his job, Lindsey was hired as program director at WLSY, a local FM station that plays instrumental and vocal adult-contemporary music. And he hired Tucker, another longtime WAVG disc jockey. (Rick Jones, who also lost his job then, now works with the commonwealth's attorney's office.)

"My future didn't concern me," Lindsey said. "It's the other guys I was worried about."

But the departing DJs said they aren't that concerned about finding work either.

"There are so many opportunities out there today," said King, who came to work at WAVG in 1973. "The idea of working 40 years at one place and collecting a pension is almost unheard of now. We're all big boys, and a talented group of people. We'll do all right."

They chalk it up to the nature of the radio business - a business where, if you stay at a station for longer than five years, you're the exception rather than the rule.

Fred Murr, the man brought in to run the stations for Brooks' company, said sales of AM stations are a growing economic fact of life. In Louisville, for example, once-powerful AM stations like WAKY and WKLO have gone to satellite or gone out of business.

"You hear every day, all around the country, of AMs that were once the real powerhouses going off the air," said Murr, WAVG general manager.

"Now you can even buy radios without an AM band on the dial. It means you turn to satellite, and a station loses local flavor, but it's the pressures of the market."

The departing DJs said that's true - and that what's happening in Louisville was happening in other markets all along.

"Sales of stations happen so often in most markets," King said. "I had the opportunity to take a job in Atlanta once, but I asked myself, 'Why?' I'm working here with people I love in a town I love. I wouldn't miss the time I've spent here for anything."

"You trade off things," said Casteel, 48. "You trade a family and a home life and a nice place to live for traipsing around the country. Staying here was always what I wanted to do."

"You don't go into a job like this expecting it to last 20 years," said Harpenau, 53. "But you can't feel bitter about it. You can't fault the station owner for doing what he feels is critical. You can't take it personally. On the other hand, there are the times when you think about the fact that there's not something out there waiting for you when you walk out the door."

"We have a nice severance package," said Brown, 38. "We aren't exactly getting golden parachutes, but they aren't lead either."

"We've known since about mid-June that this was going to happen," said Asher. "So we've been given time to look for something else."

And to ponder what some of them see as the bleak future of AM radio.

"You go to ad agencies, and there's this 22- or 23-year-old media buyer who doesn't even know what AM is," Brown said. "We have a decent share of the audience, our ratings are up, but it just doesn't seem to sell."

"It's totally different now," said Lindsey. "Everybody's doing the $1,000 hit of the day, or playing 12 songs in a row. There aren't as many personalities, and that's what makes a station seem alive. That's what makes radio a part of your life instead of an appliance you use."

Casteel saw the handwriting on the wall regarding AM as far back as 1981, when he and wife, Dottie, began a housecleaning service called Maid for You. The business now employs 10 to 15 people. Casteel said, "I'll still host 'High Q' on WAVE-TV, and I hope to be doing free-lance work," he said. "It's not like I'm going to be on the streets."

Brown runs a recording studio in his home, were he does commercial voice-over work for ad agencies across the country.

"With the advent of the fax machine, you can go home and find a script from an agency in Walla Walla," Brown said. "There'll always be advertising out there, so I'm turning my attention to that.

"Sometimes the only way you realize your potential is to leave the nest. In our case, we're not leaving the nest, but they're dismantling it, and by gosh, we'd better fly."
WAVG 970 AM Marks 60 Years
of Broadcast History
From a Special WAVG Newspaper Insert - 1993

December 30, 1993 will mark the 60th Anniversary of a radio advertising business that has sent a lot of electricity out from the WAVE antenna for over a half-century.

Early Days

The station can trace its origins to 1915, when W.V. Jordan began operating a wireless transmitting station (amateur call letters 9-L-K) with government license to be used for the communicating of Morse code between individuals.

After Jordan's return from World War I, he resumed his radio operations "radiocast of phonograph records" even though the government said the wireless transmission was not for public use. The problem was, there wasn't a public to hear them, so they rigged up a receiver to a local hospital and provided patients with earphones so they could listen to his station.

In 1922, Jordan was granted a license for the call letters WLAP (We Love All People). The station went on the air after Jordan finished his workday, "at his leisure".

In 1926, Jordan sold the license to Virginia Avenue Baptist Church. Two years later it was resold to Dinwiddie Lampton, and thus began the modern era of Louisville-area broadcasting.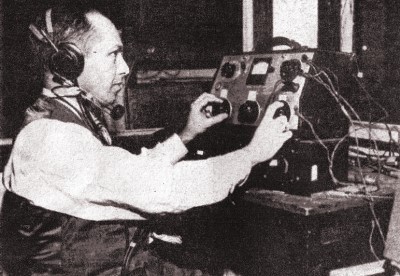 The early days of broadcasting were very busy with music, "news flashes" from the Louisville Herald-Post newspaper, and remote broadcasts from the steamboat America.
WLAP became involved in a legal fight with a station in Hopkinsville, Kentucky, and George Norton eventually purchased that station, WFIW, moved it to Louisville and changed the call letters to WAVE in 1933.
Signing the station on the air, announcer Burt Blackwell issued the summary of the aims of
WAVE:
"Louisville, gateway to the South, is on the air over the National Broadcasting Company. Station WAVE is presenting its first program. WAVE, a new station dedicating itself to the service of radio listeners, to the betterment and enjoyment of the people it serves. Programs of national importance, programs of local interest, music, sports information...and all the arts which are vocal…will be yours at the twist of a dial on this wavelength granted by the Federal Communications Commission to the associated station of the National Broadcasting Company in Louisville, Station WAVE."

WAVE's experiments with amateur shows on the local level brought national attention when in 1934 Variety ran an article that WAVE was the only station in the country doing this.

During that period, WAVE aired such famous NBC programming and personalities as: Commentator Floyd Gibbons, Jimmy Durante, Rudy Vallee, Will Rogers, Joe Penner, Ed Wynn, Lanny Ross' Showboat, the Radio City Music Hall, the A & P Gypsies, Eddie Cantor's Chase & Sanborn Hour, the Ford Sunday Evening Hour, Fibber McGee & Molly, Fred Allen's Town Hall Tonight, Major Bowes and His Amateur Hour, and many others.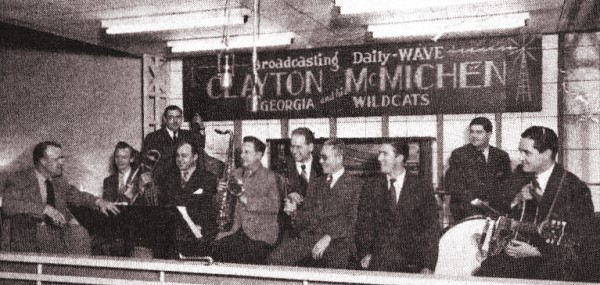 Although WAVE was broadcasting all the big news of the thirties, most Louisvillians of middle years and beyond base their affection for WAVE on their coverage of the 1937 flood.

Back On The Air ln Three Days

The Ohio River, friend and foe of Louisville since the founding of the city at the Falls of the Ohio in 1776, turned menacing in January, 1937. Swollen by cold rains upstream, it invaded Louisville, finally causing a city-wide power failure on the 24th, and WAVE went dead. A 100-kilowatt motor generator was located in Kentucky's coal fields and was put on a flatcar and rushed to Louisville, where it was set up on an elevated parking lot behind the Brown Hotel. By running cables up outside, the generator brought power for some of the Brown's lights, and put WAVE back on the air after three days of silence.
Relays of WAVE announcers and engineers broadcast 24 hours a day during the 10-day emergency, repeating over and over the phrase, "Send a Boat." A volunteer intercity network for flood relief in the Ohio Valley was set up. It included stations in Nashville, Indianapolis, Lexington and Covington, and all sacrificed commercial programs in the interest of public welfare. Later, NBC and the British Broadcasting Corporation tied together about 5,000 stations and gave the flood the largest coverage in the history of radio. Incidentally, a fish was caught in the lobby of the Brown, and at the hotel's site -- 4th & Broadway -- the water was so deep and swift that only the most powerful motorboats could be used. The flood was radio's opportunity, and the results were radio's triumph. Said Broadcasting Magazine, "Thank God for Radio."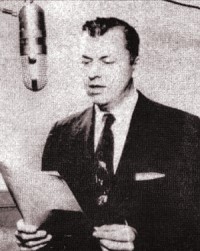 More Power
On November 3, 1940, WAVE increased its power from 1,000 watts to 5,000 watts, and on March 29, 1941, it changed its frequency from 940 to 970 kilocycles and began transmitter operation from its new transmitter building on Hamburg Pike north of Jeffersonville, Indiana. This increase meant power would be provided to middle Kentucky and Southern Indiana with greater coverage and service.
WAVE and WWII
During World War II, WAVE and NBC carried on-the-spot reports of the fighting...Pearl Harbor; the Pacific War, the European War, the atomic bomb, the surrender of the Axis. Local programming, too, reflected the tempo of those war years: "Man On The Street" moved into the studio for security masons, and listeners phoned in questions for the Patterson-Blackwell team to answer. WAVE broadcast the awarding of the Navy "E" to Tube Turns, the Jeffersonville Boat Works, and other plants. The departure of the 138th Field Artillery, Louisville's own, for Camp Shelby was aired, as were regular Air Corps recruiting programs and programs by Bowman Field's glider-training airmen. WAVE recorded the words of the wife of the recipient of Eddie Cantor's "Typical GI Joe" award, and originated programs about the War Housing Center. Even the station's unique "Cruising ln Traffic" program, in which police in WAVE's mobile unit gave out on-the-spot traffic advice, took on a wartime aspect.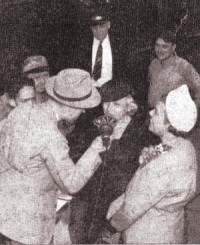 Youth Audience Addressed
In 1946, WAVE concentrated on the younger generation, with "Making Music" in cooperation with the Louisville Orchestra, a Junior Roundtable on public affairs, and a juvenile quiz show called "Healthy, Wealthy and Wise", which had a ten-year run on WAVE. And with the Division of Recreation, Department of Public Parks initiated a program called "The Magic Carpet", which featured Nancy Owen of Anchorage as the Story-Telling Lady. This program was to remain on the air as long as children under 14 were barred from the area playgrounds because of the polio epidemic.
WAVE won Variety's 1947 Showmanagement Award for responsibility to the community, being cited for a UN art exhibit, and for its "broadened viewpoint and local enlightenment" in connection with airing both sides of some issues together for broadcast discussion. In 1942, WAVE again won a Variety award for "The American Story", a documentary series on the American Way. Also in 1947, WAVE inaugurated a series of "Reports From Congress". And in 1946 and 1947, WAVE aired regular Louisville Orchestra Concerts.
Good Deeds

ln August 1947, WAVE's FM affiliate, WRWX, went on the air, broadcasting play-by-play baseball and basketball, and the best in serious and dinner music, but WRXW was ahead of its time, and it was discontinued in September 1952, and the transmitter turned over to the Louisville Public Library, where it is now used as station WFPK, the Library's educational station.
The Dawn of a New Era

On Thanksgiving Eve, November 24, 1948, WAVE brought television to Kentucky for the first time, when WAVE-TV went on the air. Programs were limited to the evening hours, and all network shows were kinescope recordings, because cable service had not reached Louisville.
First and Foremost

Ground for WAVE's new radio and television center was broken on May 26, 1958. It is the one story structure on the northeast corner of Floyd and Jacob Streets. The station moved to its present location in July 1959. For the dedication of the building, the station commissioned a full- length opera, "Beatrice", which was presented on both radio and television on October 23, 1959, by the Kentucky Opera Association. The composer was Lee Holby, an American musician. WAVE was the first station ever to commission such a work.

WAVE-TV in 1949 was also the first in the nation to present a live telecast of the Kentucky Derby. Thus, many people besides those at Churchill Downs saw Ponder win. Also, in 1953, WAVE-TV did the first telecast of the traditional Kentucky-Tennessee football game. WAVE-TV was also the first to show network color in the Louisville area in 1954, first with the transmission of live color in 1962, first with telecasts of the Kentucky General Assembly at work in l965, and in l967 first to telecast in color the inauguration of a Kentucky Governor, Louie B. Nunn. Another WAVE "first", WAVE Radio offered Kentucky the first regular daily helicopter traffic report.

Selling and Buying
In 1969, the company's corporate name became Orion Broadcasting, Incorporated.
The early 1980s found the Norton family selling WAVE radio and television. Then in 1988, the Henson family of Louisville agreed to sell the radio station, WAVG-AM 970, to Radio One of Louisville, Incorporated.
By May 1991, WAVG-AM was again for sale and was purchased by Sunnyside Communications Incorporated, which owns WXVW-AM 1450. Charlie Jenkins, Sunnyside President, made changes in WAVG's format to "Stardust". He says the new WAVG is "brighter" and more "up-tempo" with "stronger air personalities."
Jenkins says the eleven investors who make up Sunnyside wanted to purchase WAVG because of its power (5,000 watts); its position on the dial (970); its technical facilities (second only to WHAS); and its history (it was founded in 1933).
Stay tuned.