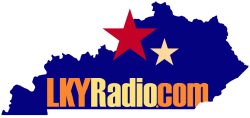 Page updated March 03, 2021
Home Page | Louisville Radio | Lexington Radio | Message Board | Contact Us
103.3 WTKT
WTKT: The station (known as "The Cat") featured an all-oldies format. It was purchased by Kentucky Radio Partners in 1989, who moved the station from its studios in Georgetown (its city of license) to Lexington. The station previously was at 103.1, signing on the air in 1973 as WAXU-FM. Other previous calls included WRMA and WMGB. When the frequency was changed to 103.3, power was increased from 3,000 watts to 6,000.
Know anything more about this station? Have any WTKT airchecks, photos or promotional material?
Drop us a line.
Mark Travis (July 1992)
2:31 - 1770 KB
All audio is in downloadable MP3 format.


Home Page | Louisville Radio | Lexington Radio | Message Board | Contact Us