WKQQ History
By Scott Wills
WLEX-FM [WKQQ's original call letters] came on the air in 1968 on 98.1 MHz, with an RCA transmitter running 50KW ERP. WLEX was an RCA house, for the most part. RCA videotape machines and transmitters have been used at the TV facility for years and RCA audio consoles were used for the FM station. It surprised me that they used Harris (GE) studio cameras for years. WLEX-FM was another automated station. Using Drake-Chenault's "Hit Parade" and "Solid Gold" formats for years, it kept bringing in the bacon.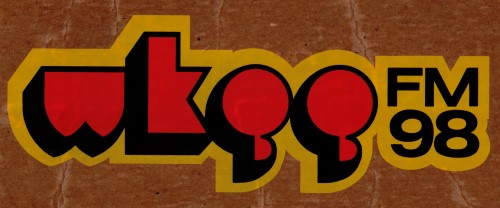 WKQQ window decal
Sometime in the mid 1970s, it was sold to Village Communications of Chapel Hill, NC and the call sign was changed to WKQQ or "Double Q" as it was known. The format became AOR. Shortly afterwards they acquired WBLG-AM and the old WKYT-TV building. This gave them a broadcast facility, with a 500' black iron tower on site. WKQQ was licensed as a 50KW facility, and sometime in the late 70's or early 80's that was increased to 100KW. A Sintronix transmitter was purchased for the upgrade in power. It ran from this site until the late 90's when the FCC mandated that all Class C FMs running 100KW ERP must be 1000' HAAT. At this point, WKQQ switched frequencies with the old Winchester, KY Class A FM, received a CP for 100KW on 100.3Mhz and built a new station and identity. Winchester received the old 98.1 Mhz frequency at the 50KW power level.
The History of Lexington's Rock 'n' Roll Institution
This appeared in a 1989 Lexington Herald-Leader Advertising Supplement
Until 15 years ago Lexington had never heard anything like it. In December 1974, WKQQ-FM 98.1 signed on as a computer-automated, 24-hour-a-day stereo FM radio station. According to listeners, Lexington has never been quite the same.

From the beginning, WKQQ's goal was to be uniqque (that's how they spell it) with concert information, more variety of music, more comedy, and wacky promotions.

1974-1979

In the '70s, WKQQ brought such acts as Aerosmith, Steve Martin, Fleetwood Mac, and Billy Joel to Rupp Arena.

During that decade, listeners heard Kruser, Jim Mastin, Jack Renaud, and Terry Meiners. They played rock 'n' roll music that had never been heard on Lexington radio. Popular promotions included Skylab Insurance, Invasion of the Album Snatchers, and "Rumper" Stickers. In the early years, blizzards, the bicentennial, and the Who concert tragedy made the news.

WKQQ went live in 1976. In 1977, after only three years on the air, the pinnacle of broadcast success was reached by WKQQ when listeners rated it the No. 1 radio station in Lexington for that year. Since then, the station has remained No. 1. (Source Arbitron 1977, Birch 1989)

In 1978, Homespun, an album featuring original material from some of Central Kentucky's finest musicians was released. The project was such a success, that Homespun, Too soon followed.

WKQQ's Laugh Track Live, now the longest running comedy show in the nation, began in 1979. WKQQ's Memorial Stakes Day at the Red Mile also started its lasting tradition that year.

1980-1984

The '80s ushered in such flamboyant personalities as Mike Wolfe, Ross Martin and Scoop Rogers, and Gary Dickson and Nola Roeper.

In 1982, the station began its Decent Exposure contest, which allows local bands who need some "decent exposure" to compete for prizes such as music equipment and, possibly, if the stars are in their favor, a recording contract.

During the early '80s, concert goers were treated to WKQQ sponsored acts such as Rod Stewart, John Cougar, Billy Joel, The Who, and Rolling Stones.

The Weather Fairy, Explode a Record, and "What Your Favorite Color Says About Your Sex Habits" all bid a fond farewell in 1983 with the split of morning personalities Gary and Nola.

1985-1989

With the first decade of craziness behind it, Double Q gave its listeners even more entertainment -- Kruser and Co., The Great Ramblin' Raft Races, Bar Wars, Kiss Your Landlord Goodbye, and The Rolling Stones in Europe. Listeners were sent to Live Aid and The Grammys and won big money in the $5,000 Outrageous Contest, and a $10,000 giveaway for WKQQ's 10th Anniversary. Also there were many car giveaways, including a pink Cadillac limousine.

WKQQ welcomed such bands as U2, Bruce Springsteen, The Rolling Stones, Pink Floyd, and more to Lexington.

Classic Café, No-Repeat Thursdays and Block Party Weekends remain the highest rated features among Double Q's avid listeners.

One source of pride to WKQQ has been the hundreds of thousands of dollars raised for charitable organizations during its 15 years on the air. The ultimate national recognition came for the second year in a row (1988-89), when WKQQ was recognized by the National Association of Broadcasters for Outstanding Community Service.

Now ready for the '90s, WKQQ explodes into the next decade and beyond with more laughs, more community service, more music, and more contests than ever.

In the infamous words of Bachman Turner Overdrive, "B-B-B-Baby, you ain't seen nothin' yet!"
Kruser and Company Morning Show

This appeared in a 1989 Lexington Herald-Leader Advertising Supplement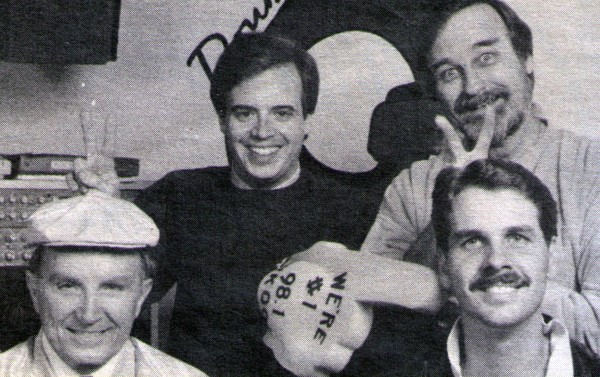 Kruser & Company (morning show) consists of, front from left to right, weather with Frank Faulconer; news with Brian Wright; in back, Kruser; and sports with D.G. Fitzmaurice
The following interview with Dave Krusenklaus was conducted by WKQQ.

EDITOR'S NOTE: Kruser has been with WKQQ-FM since late 1978, first as afternoon drive host and since 1983 as morning show matron of madness. He agreed to this interview only after the editors agreed to buy him an expensive lunch and ply him with rare French champagne.

QQ: Why would you give up an afternoon drive air shift where you could sleep late and party all night for an air shift that demands you to get up at 4:15 a.m.?
KRUSER: It was easy to say yes to the change after the management of WKQQ brainwashed me and then applied torture methods left over from the Spanish inquisition.

QQ: Well, certainly there are morning shows that you're proud of. What are some of your favorites?
KRUSER: That's hard to say because we've done so many uniqque things. The shows that come to mind are the two shows we've done from listener's homes, the Ms. Morning Show contests, and the Sportstalk shows with local celebrities as guests. We've had great moments with the Comedy on Broadway headliners every Thursday, and who can forget that great show we did at Eddyville, and my many years on the USO tour with Bob Hope.

QQ: If we missed any of those moments is there any chance we can hear some of this again?
KRUSER: Yes. For the next couple of months during our birthday celebration, we'll replay classic moments from the show for which I hope to receive a fat royalties check.

QQ: Are you going to call these replays Kruser & Company: The Lost Episodes?
Kruser: It would sound better. But what does it mean when they say, for instance, Bonanza: The Lost Episodes? Were they really lost? I thought Hoss ate them.

QQ: Do you get along with the other members of your show: Brain, Frank, and Fitz?
KRUSER: No, can't stand them. We never hang out. They're scum.

QQ: What did you do before you got into radio?
KRUSER: I always dreamed of being a department store model -- standing in front of those fake outdoor backgrounds modeling cheap polyester Easter suits. If I couldn't do that, I wanted to work at a toxic waste dump.

QQ: Did you start working in radio while you were in college?
KRUSER: Yes, I was Mr. Extra-Curricular Activities. I worked at three radio stations while in college, played rugby, was on the cheerleading squad, wrestled, was a member of the debate and fencing teams, was in the French club, and spent my spare time sucking up to the professors for a higher grade.

QQ: Did you go to UK?
KRUSER: I tried, but I couldn't find a place to park, so I went to the University of Dayton.

QQ: Is there anyone you owe anything to for your success here in Lexington?
KRUSER: I don't owe anybody a dime...what do you think I am -- a savings and loan?

QQ: Not in terms of money, we're talking in terms of support.
KRUSER: Oh...well in all seriousness...I owe a thanks to the Village Companies, our parent company, and particularly the three general managers I've worked for -- Peter Jorgenson, Chris Ackerman, and Keith Yarber -- for their support.

Terry Meiners was a real friend when I first moved here, and we're still friends today -- even though he's a Louisville big shot -- and we all know how painful that can be.

Thanks to all my co-workers, past and present, that I've enjoyed good relations with. They made it a pleasure to come to work.

And most of all, thanks to the listeners. Our best shows are those in which we have good phone interplay with the listeners. It's a real kick to meet people who listen to you when they get up every morning. We have the best, brightest, and most creative listeners in town.