Lexington Herald-Leader - August 28, 1988
Soul, Rap to be focus of new area FM station
By Tom Carter
Herald-Leader staff writer

At 6 o'clock Monday morning, disc jockey Tom "Icebox" Holiday is scheduled to sound an alarm clock into a live microphone and bring a new Lexington-area FM radio station to life at frequency 102.5.

WCKU-FM, or "U-102" as it will be known, will be Central Kentucky's first "urban contemporary" format radio station - music that has a strong black or soul sound.

Located in Nicholasville in the same building as it sister station WNVL-AM, WCKU will make its debut with 2,000 watts and will be on the air 24 hours a day.

Both stations are owned by Jessamine County Communications Ltd.

"This is hip music, the kind of thing Liza Minnelli would expect to hear if she went to Studio 54 in New York," said Dale Wright of WNVL.

Wright will be ending his 20-year stint as a talk show host on WNVL to take on duties as program director at WCKU.

Al Snyder, one of the owners of Jessamine County Communication Ltd., said the urban contemporary format was chosen because the station owners were looking for a "hole" in the radio market.

"It was difficult to find a format that isn't already being utilized here, but urban contemporary is a sound Lexington has need for some time -- it's the music of the city," he said.

The station's initial lineup of on-air personalities will be:
Holiday, formerly with WFMI-FM and WMGB-FM, from 6 to 10 a.m.

Gary "Hunter" Hayden of Nicholasville and formerly of WLBJ-AM in Bowling Green, from 10 a.m. to 2 p.m.

Sean Roberts, formerly of WFMI-FM and WLXG-AM, from 2 to 7 p.m.

Tony "TJ" James of Frankfort, formerly of WMGB-FM, 7 p.m. to midnight.

Aaron "The Night Bird" Cosby, from midnight to 6 a.m.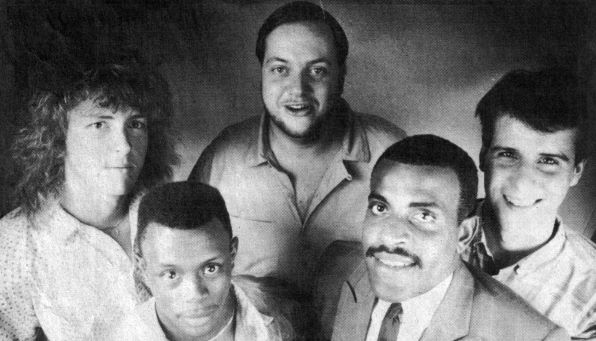 Sean Roberts, left, Aaron Cosby, Tony James, Hunter Hayden and Tom Holiday
Wright said compact discs would be played on the air whenever they were available.

In addition to the standard format, WCKY will have special programming.

From 11 p.m. to 1.am Monday through Thursday, it will format "romantic" recordings; from 8 p.m. to midnight Friday, "rap" music will be the focus; from 9 p.m. to midnight Saturday, the focus will be on dance music; and from 9 p.m. to midnight Sunday, jazz will be played.

Some of the artists listeners can expect to hear on "U-102" reflect music listed on the dance, black and "Hot 100" charts in Billboard magazine, including Pebbles, Steve Winwood, New Edition, D.J. Jazzy Jeff and the Fresh Prince, Al B. Sure!, Keith Sweat, Whitney Houston, George Michael, Salt-n-Pepa, and Eric B. and Rakim.

Wright, who just turned 50, didn't think his age would be a problem in a job involving contemporary music.

"A good program director doesn't program for himself, and I don't expect to be playing my own private, record collection on the air," Wright said.

He explained that he would be working closely with all five of the station's younger disc jockeys, and with Slipped Disc Records in Lexington, a store he said was the city's top outlet for urban contemporary music.

"They've always known what I've wanted when the other shops didn't," Wright said.