John Quincy Remembers WAXU
WAXU-AM was Lexington's primary source for county music through the most of the 1960s and 1970s. I worked there twice: in 1973/1974 and in 1979.
WAXU-AM was a daytimer-only station at 1580 on the dial, pumping out 10,000 watts of directional power. Even though it was licensed to Georgetown in Scott County, it was programmed primarily for Lexington listeners. (The studios and transmitter were on Ironworks Pike, only two miles from the Fayette County line.) When I joined the station in the Spring of '73, I worked weekday evenings from 6 till sundown (when the station signed off) and Sundays from 10 a.m. till sundown. In the Fall of '73 WAXU-FM signed on the air and simulcast WAXU-AM in full fidelity mono till its midnight signoff. At that time my airshift became 6:00 p.m. till 12:00 a.m. weekdays.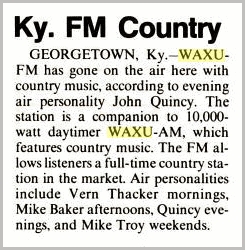 September 29, 1973 Billboard Magazine clipping
WAXU was a Mutual affiliate, with network news and sports coming down one of the worst-sounding phone lines in the country. The station was known as the "Top Gun" and used the "Top Gun" jingles from CRC plus another jingle package from Tom Parma. In 1974 the station bought a jingle package from TM Productions.
WAXU was the first station I worked for that had ITC cart machines. In 1973 WAXU utilized one of the famous ITC triple-decker units. The control room board was a 5-pot Collins console where the program/audition switches went up and down instead of sideways. One of the small knobs on the board that would normally be used to control monitor volume had been converted into a "sixth pot" for one of the cart decks.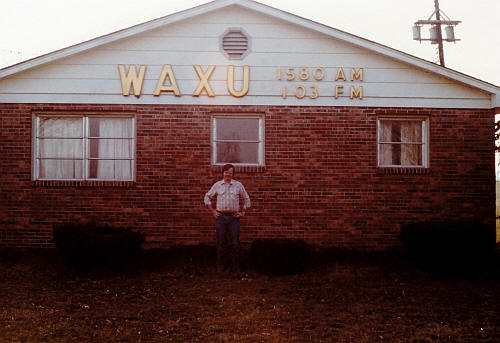 John Quincy in front of the WAXU studios on Ironworks Pike
WAXU used reverb on the air. However, it was just on the main control room microphone. The way it was wired into the board, you had to leave the mic switch on until the reverb completely decayed or else the end of the reverb trail was chopped off.
WAXU-AM used a piece of gear in their processing chain that supposedly made the station louder by turning negative peaks into positive peaks. I don't know how well it actually worked, but a side-effect was that every so often you'd hear "pops" on the air mixed in with the program material. Weird.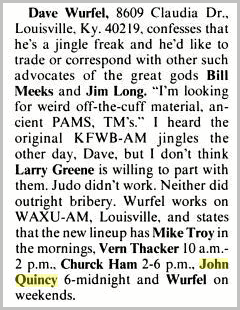 May 18, 1974 Billboard Magazine clipping
(Dave Wurfel went by "Dave Williams" on the air)
I was fired from WAXU in the Summer of '74 for not following the program director's and owner's programming guidelines. (Looking back, if I had been the PD I would have fired myself sooner.) I did such radical things like grouping commercials into clusters of three units instead of playing one commercial between every song. (Hey, the Top 40 stations were doing it "my way" so they could do two- or three-song music sweeps. Didn't they know I was an 18-year-old programming genius?) I also would go under the board and crank up the mic reverb for my night show...but would sometimes forget to turn it down before I left. The PD, Mike Troy (who did mornings) would get a rude surprise when he did his first break, sounding like he was in the middle of Mammoth Cave. Listening back to my airchecks, even though I thought I was hot stuff, I was truly awful. A real mush-mouthed puker.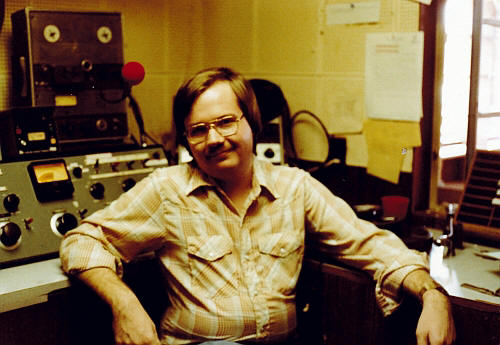 John Quincy in the WAXU Production Room (1979)
After other Kentucky gigs at WCBR in Richmond, WKDJ in Winchester and WBLG in Lexington (plus a couple of four-day tours at WWKY in Winchester and WPKE in Pikeville), I returned to WAXU in September of 1979 to do morning drive. By this time I had progressed from being truly awful to just plain bad. I had quit puking and doing the "shixty shix degrees in the shitty" stuff though.
Other than the getting up early part, mornings were fun to do. Since I was signing on the FM station at 6:00 a.m., I had to make sure I wasn't late -- and I never was.
WAXU owner Bob Johnson (who also built the Georgetown cable TV system) was a strange bird. Between my first and second stints there, a salaried announcer had sued him claiming he worked more than the 44 hours he was supposed to work each week and wasn't paid overtime. So Bob installed a time clock outside the control room door. All announcers -- on salary or not -- had to punch in and out each day so there would be an official record of their hours. I arrived at the station by 5:30 every morning, but I couldn't punch in until 5:45. Even if I was busy doing production in the afternoon, I had to punch out at 1:45 or I'd get in trouble. It was the only radio station I've worked for that had a time clock -- just like a "real job."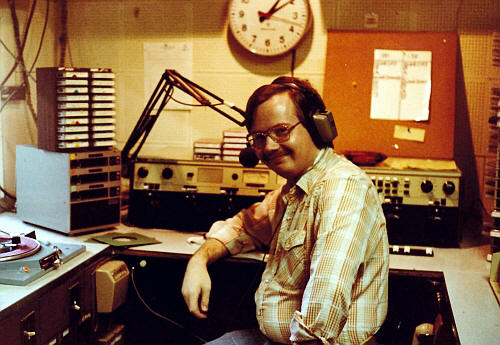 John Quincy in the WAXU Control Room (1979)
WAXU-FM had gone stereo since I had left the first time, so a McMillan stereo console replaced the old mono Collins board in the control room. Spots and jingles were still played from the mono ITC triple decker, and music still came from turntables. National/international news and sports still came from Mutual on the same crappy-sounding phone line. The microphone reverb had been retired.
And, in 1979 WAXU's commercials were clustered in three-unit breaks so the station could do two- or three-song music sweeps. What a great idea.
WAXU was the last Kentucky station I worked for. I received a job offer to do afternoons at an AC station in Savannah, Georgia. After I flew down and saw the ocean for the first time and found out that it virtually never snows in Savannah, I called U-Haul and left WAXU in late November of '79...a few weeks before another cold Kentucky winter came around.